Edwin Morgan! 100!
Very recently I learned that celebrating a birthday is not about having a big party. Admittedly, this is a very enjoyable way of celebrating, but we are on Corona Lockdown, so that is not an option.
However, celebrating someone's birthday is much more about letting them know how much you love and appreciate them, and whichever way you find to let them know, and more importantly, feel just that, is fine.
You could design a card with things they love, you could sing them a song or make a video highlighting the adventures you've enjoyed together, you could send them a buquet of their favourite flowers or simply a bar of chocolate, you could make them their favourite lunch or leave a birthday cake on their doorstep or you could call them via video chat and have a wee drink with them on the screen or you could write a poem and read it out loud or simply send them a text message saying "Happy Birthday" and that you love them. – Whatever you do, let them know that you are grateful they were born and that they are part of your life, because this is what counts.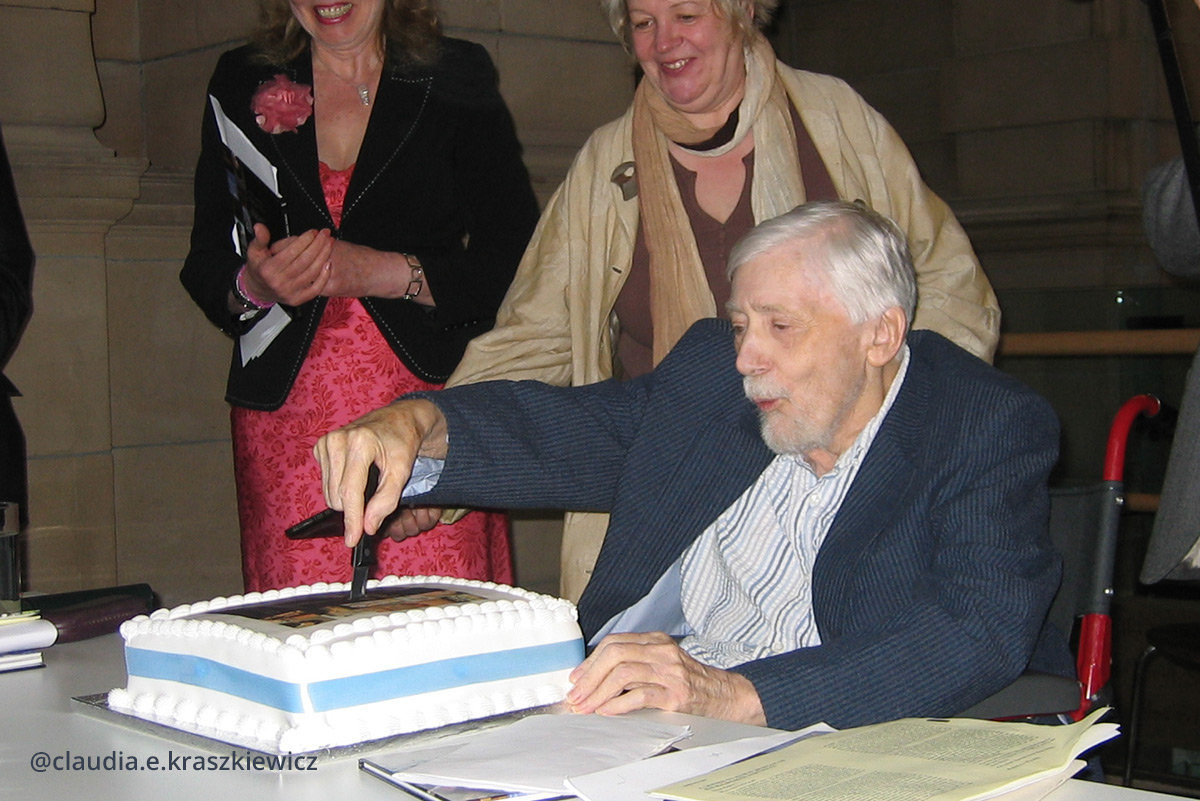 Eddie loved cake, and he enjoyed witty birthday cards
Eddie loved cake, and he enjoyed witty birthday cards. I remember him showing me his birthday card for his 81rst birthday with the digits swopped around congratulating him on his 18th birthday, given to him by Tommy Smith. I once sent him a letter saying Happy Birthday in dozens of different languages asking him to identify as many as he could. (Yes, of course, he identified all of them, his curiosity would not let him do otherwise.)
Eddie loved it even more when people read his poems, quietly to themselves or – even better – out loud. And as he is not around to eat birthday cake or enjoy cards anymore, you could still share your love for him and his work through reading his poems – out loud! – and share them with others. If reading out loud is not your thing, you could let people know what you do to celebrate instead. Remember, as long as you express your love and appreciation in some way, it's just fine!
So let's do this!: Read one of Eddie's poems or record a message of appreciation in which you write or say in which way you are going to celebrate Eddie's birthday today, and post them on social tagging @claudia.e.kraszkiewicz (insta) @edmorgantrust (insta & twitter) or @edwinmorgantrust (facebook) and use #edwinmorgan100 and #holdhandsamongtheatoms hashtags.
Or send us your readings/greetings/messages via www.wetransfer.com to 100@edwinmorgan.com , so we can post them for you in this blog.
Celebrate Eddie's Poems! Celebrate Love!
Happy Birthday, dearest Eddie! Happy 100th Birthday to You!
As for me, I shall share a wee dram on video chat with Mark, and I'm sure, we shall also share some of our fondest Eddie stories.