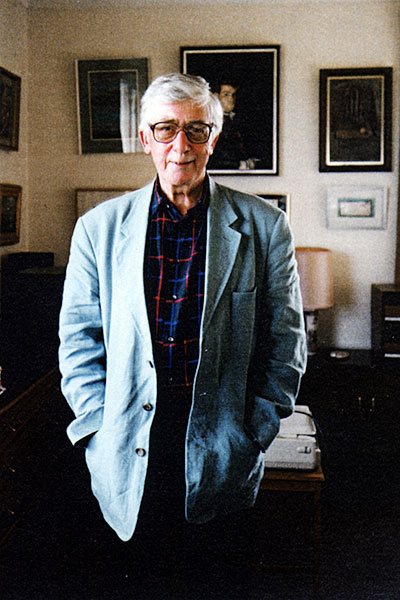 Edwin Morgan © Claudia Kraszkiewicz
---
Biography
Edwin George Morgan was born 27 April 1920 in Glasgow's West End. Soon after his birth his parents decided to move to Rutherglen, where he spent his childhood and attended a local school. After completing Rutherglen school, he went to Glasgow High School, and began his studies at Glasgow University in 1937. He interrupted his studies in 1940 to join the Royal Army Medical Corps, then returned to university in 1946. Edwin Morgan graduated the following year with a First Class Honours Degree, and became lecturer at Glasgow University, turning down a scholarship to Oxford; he took an early retirement in 1980 and hence ended his career as university professor. He died on 19 August 2010 at the age of 90 in his beloved home city of Glasgow.
Edwin Morgan has always been interested in many different areas, some of which include languages, technology, art, and film; he began to travel widely in the 1950s.
He translated poetry from the Russian, Hungarian, French, Italian, Latin, Spanish, Portuguese, German, and other languages.
In the early 1960s he began to experiment with Concrete Poetry.
Both, readers and critics have always been struck by the great variety in style, form and subject Edwin Morgan's work provides: From sonnet to concrete poem, from opera libretto to performance with jazz saxophonist Tommy Smith, his work is as wide-ranging as you could wish for, its striking inventiveness being just one of its special qualities. He wrote poems on film and theatre, Science Fiction poetry, Sonnets from Scotland, Glasgow Sonnets, Instamatic Poems, and Newspoems, to name but a few. He published numerous volumes of poetry, as well as collections of essays, most of which are available at Carcanet Press Ltd., Manchester and Mariscat Press, Glasgow.
His volume of Collected Poems (Manchester: Carcanet Press, 1990) is the largest, a very wide ranging collection.
After his celebrated translations of Rostand's Cyrano de Bergerac (Carcanet, 1992) and Racine's Phèdre into Scots (Phaedra, Carcanet, 2000), in autumn 2000 Edwin Morgan's first original dramatic work appeared: A.D. A Trilogy of Plays on the Life of Jesus (Carcanet, 2000) and was produced on stage by the Raindog Company in Glasgow.
He was announced Glasgow's first Poet Laureate in autumn 1999, and was awarded the Queen's Gold Medal for Poetry in 2000. In June 2001 he received the prestigious Weidenfeld Prize for Translation, the winning book being the above mentioned Phaedra.
If you'd like to know more about Edwin Morgan and his work, you will find these books useful:
James McGonigal, Beyond the last Dragon: a Life of Edwin Morgan (Sandstone Press, 2010, 2012) – the first biography of Edwin Morgan
Alan Riach (ed.), The International Companion to Edwin Morgan (Scottish Literature International, 2015)
Robert Crawford & Hamish Whyte (eds.), About Edwin Morgan (Edinburgh University Press, 1990)
In these books you'll find collections of articles on EM's life and work of an academic nature, offering detailed considerations of his science fiction poetry, his plays, his translations etc
If you are doing research for a school essay, the best short guide is James McGonigal's The Poetry of Edwin Morgan (Association for Scottish Literary Studies, 2013).
If you have more questions, please, do not hesitate to send an e-mail to this website.
---
The University of Glasgow:
Biography of Edwin Morgan
Edwin Morgan (1920-2010) was a graduate of the University who...
World Changing - Notable People - Edwin Morgan